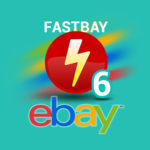 Fastbay 6.3.0 update : see what's new
The new Fastbay 6.3.0 update is going to being released very soon, there are many new improvements on this version which introduces new features and aims to further simplify the eBay sales experience through Prestashop.
Let's see all the news together.
New duplicate titles prevention system
With this new option, Fastbaye will prevent multiple ads with the same title from being created on eBay, in order to avoid potential penalties on your account.

Added support for sending product weight (kgs / lbs) to eBay
This will allow you to use Prestashop to set the weight of your products and then appy eBay business policies related to the weight.

New "Sync Maintenance" section to clean up Prestashop and / or eBay stuck jobs
This section will allow you to solve "with a click" most common issues that can lead to stuck or inconsistent synchronizations within the module.

Added the ability to select a default Prestashop carrier in case of an invalid eBay shipping service
It is now possible to retrieve eBay orders with a predefined Prestashop carrer, without the need to necessarily have it "mapped" among the shipping services

Added support for using the public name for the attribute group

Added the possibility of not importing the eBay number in the order payment method
This feature improves compatibility with CRMs and third-party tools that can rely on Prestashop payment method for internal management.

Added support for Prestashop 1.7 native ISBN field
Now if ISBN value is filled in for product or variation, it will be sent automatically to eBay
Other minor improvements:
The ability to import a dummy tax code value is now being made optional,
eBay carrier description is now shown in order table,
it is now possible to use product sync cron even with "sync on save" disabled,
Downloading orders and managing non-usable eBay carrier had been improved,
Minor bugfixes and compatibility and translation optimizations
How to receive the update
In order to stay aligned with all brand new module features, keep your Fastbay copy up to date.
If you already have the previous version and a valid 12 month Zen upgrade license, you can download the new version from your account in our webshop. Alternatively you can request it for free by opening a ticket in our support area : support.prestalia.it
If you are not entitled to upgrade, however, you can purchase the new module directly on shop.prestalia.it or renew your Zen option by clicking here.